Stone Grzegorek & Gonzalez LLP is proud to represent clients who invest in renewable and alternative energy sources through the EB-5 Immigrant Investor Program.
The essential policy goal of alternative energy development is to conserve the environment and foster energy independence, a key initiative for our national security.  While renewable energy sources tend to have lower maintenance costs, the initial capital required to build production plants is a significant disincentive.  As a result, obtaining the initial start-up capital can be challenging.  The EB-5 program has generated millions in foreign capital to contribute to this goal. Examples of SGG client projects include: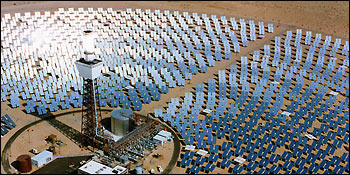 The Ivanpah Solar Thermal Power Plant, located near the California-Nevada border, about 40 miles southwest of Las Vegas, received $90 million of EB-5 capital. The plant is the largest solar thermal plant in the world and is capable of producing nearly 400 megawatts, which is enough to power 140,000 homes. Ivanphah officially opened in February 2014.
Tonopah Solar Thermal Power Plan, also known as the Crescent Dunes Solar Energy Project, was funded by 320 EB-5 investors who contributed $160 million in capital. Using an innovative method of energy storage technology, the facility powers 75,000 homes in Nevada (even without direct sunlight).
Dakota Spirit AgEnergy near Jamestown, North Dakota is an ethanol production plant fueled by locally grown corn. Ethanol is a renewable, domestically produced transportation fuel that helps reduce petroleum usage and greenhouse gas emissions. In 2015, ethanol displaced nearly ten percent of the U.S. gasoline supply.  Dakota Spirit AgEnergy plant annually produces 65 million gallons of ethanol, using 198,000 tons of grains and 6,900 tons of industrial corn oil – all sourced from local farmers. The plant was funded with $75 million in EB-5 capital.
By October 2015, SGG clients had raised and contributed more than $4 billion in EB-5 capital directly into the U.S. economy, creating jobs for U.S. workers and growing local economies.  SGG is eager to continue representing individual EB-5 investors and designated regional centers who are actively contributing to the nation's economic growth and security interests.