The experienced immigration practitioner will agree that USCIS has never enjoyed a reputation for speedy and efficient case processing. However, in recent years USCIS processing delays have been steadily – often sharply — increasing across the spectrum. From routine applications for employment authorization or for naturalization (which is of increasing concern as we approach an election year), to applications for unlawful presence waivers, across the board the theme is delay, delay, and even longer delays.
Source: https://egov.uscis.gov/processing-times/historic-pt (FY 2019, 10 months)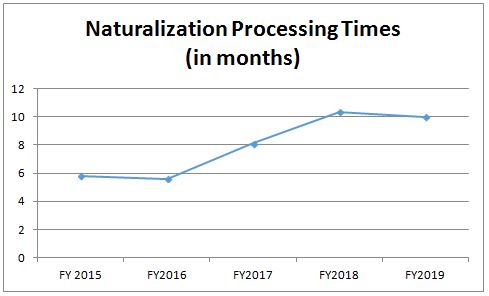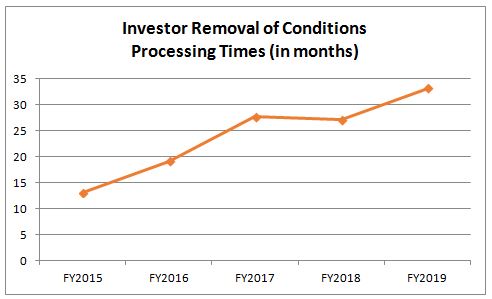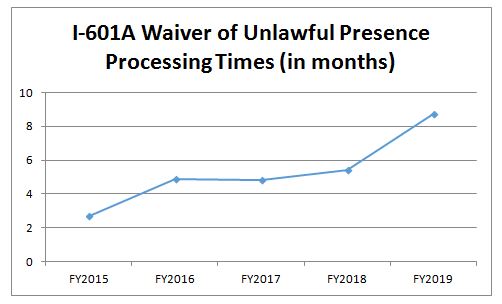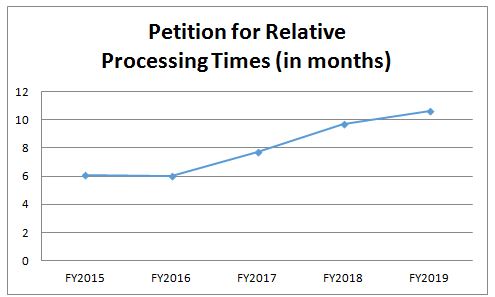 These delays often have serious harmful impacts to our clients. So what can be done?
Under exceptionally compelling circumstances, one possibility is a request for expedited processing. USCIS has published qualifying criteria for requesting expedited handling of an application or petition. When USCIS is satisfied that the facts and circumstances qualify a case for expedite, a case can be taken out of order and scheduled for immediate adjudication. The qualifying criteria presently are: (1) severe financial loss to a company or person, except where applicant delay contributed to the urgency of the situation; (2) urgent humanitarian reasons; (3) certain compelling U.S. Government interests; or (4) clear USCIS error. During 2019, changes to the published expedite criteria very significantly narrowed the range of circumstances under which an expedite request might be successful or even considered. Expedite requests are decided purely as a matter of discretion, are rarely granted, and the decision process is not transparent. In fact, the USCIS Policy Manual emphasizes that "USCIS is not required to provide justification and is not required to respond regarding decisions on expedite requests."
Because expedite requests are rarely granted, it is important to keep in mind an alternative that exists for certain types of employment-based immigration petitions and applications – premium processing. A request for premium processing ensures that USCIS will take action on the matter (issue a decision, or a request for evidence, etc.) within 15 calendar days. Premium processing comes with a hefty $1,140 price tag, and can only be requested by a petitioner, not a beneficiary. This service is available for certain I-140 Petitions for Alien Worker and I-129 Petitions for Non Immigrant Worker. It is best to check the USCIS website for the most recent list of petitions for which premium processing is available. https://www.uscis.gov/forms/how-do-i-use-premium-processing-service
But what can be done for individuals who do not meet the limited expedite criteria, or for whom premium processing is not an option? More often than ever before, clients are considering federal court litigation to address egregious delays. The Mandamus Act and the Administrative Procedure Act provide legal bases to challenge the agency's failure to perform its duty within a reasonable time. Federal District Courts have the authority to compel the USCIS to take action where other options have been exhausted or where the applicant is facing imminent harm or loss.
The political and policy climate for immigration applications appears more hostile than ever, and that holds true for the entire spectrum of applications – from asylum applications to family-based petitions, to employer-based cases. Federal court litigation is a critical tool to help clients scale the formidable "invisible wall" of bureaucracy that is delaying meritorious cases.