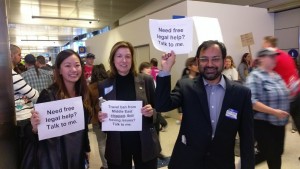 President Trump's travel ban issued on January 27, 2017 caused widespread panic and chaos across the nation's airports as families waited for word on whether they would see their loved ones again. In an unprecedented collaboration between cities, national civil rights organizations, local community organizers, and immigration attorneys, thousands went to the Los Angeles International Airport ("LAX") to provide assistance and support to those directly affected by the travel ban.  Attorneys from different backgrounds, not just immigration attorneys, answered the call and provided assistance in any way they could – from interpretation to gathering information from passengers released after detention to providing legal guidance to families affected.
SGG attorneys Kathy Grzegorek, Tiffany Chang, Raj Iyer, Joyce Noche, and Melissa Wong were among the immigration attorneys providing legal consult and support.  It is estimated that over 7,000 attorneys, organizers, and protesters were in attendance at LAX that day. Despite a stay issued by a federal district court in New York one day after the ban was announced, mass confusion and panic still remained.  There were reports of Customs and Border Protection ("CBP") inconsistently admitting some passengers while denying admission to others, and word of lawful permanent residents' being denied admission as well.
Passengers reported that they were not provided food or access to medication during secondary inspection. Some families waited upwards of 12 hours to determine the status of family members as passengers were not allowed access to phones during inspection. Heartfelt reunions, families who did not know whether they would see one another again, were celebrated throughout the day.
Protesters shut down entry and exit to the airport as attorneys met with families trying to confirm whether loved ones would be released. Attorneys worked hard to ensure that CBP was complying with the stay.  The synergy of organizers, community advocates, and attorneys was remarkable, as each provided their own unique talents to confronting this crisis.  On February 9, 2017 the U.S. 9th Circuit Court of Appeals upheld a Seattle, Washington federal judge's restraining order blocking implementation of the travel ban. SGG remains committed to providing support to those in need.