The number of Applications for Naturalization submitted to the United States Citizenship and Immigration Services (USCIS) went up by 25% from 2013 to 2017, and then saw a decline in 2018. The significant jump in the number of applications in 2016 alone contributed to a backlog in processing naturalization (N-400) applications. However, despite the fact that the number of N-400 applications filed saw a decline in 2018, the number of applications pending adjudication has remained fairly constant, meaning that USCIS has not caught up on the backlog caused by the FY2016 spike in applications.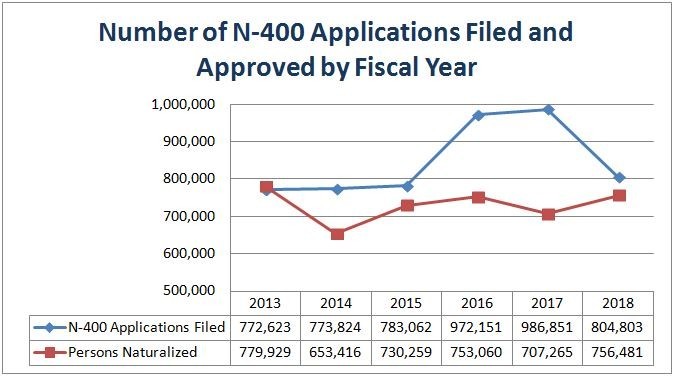 Data Source: https://www.dhs.gov/immigration-statistics/yearbook/2017/table20
https://www.uscis.gov/tools/reports-studies/immigration-forms-data

Data Source: https://www.uscis.gov/tools/reports-studies/immigration-forms-data
At the same time, average processing times for N-400 applications went up from 5.8 months for FY2016 to 10.5 months in FY2018 reaching as high as 20+ months for some service centers.
This increase in processing times and failure to make progress on the backlog have led some to speculate that processing of N-400 applications is deliberately delayed for political reasons under the Trump administration's so-called "invisible wall". Several new policies implemented over the course of 2017-2018 shifted agency focus and diverted resources from efficient administration of immigration benefits to immigration enforcement, thus slowing down adjudications and contributing to backlogs.
Congressional leaders are now asking USCIS for answers, alarmed at the near-doubling of backlogs across all application types.
Several immigrants' rights organizations also requested information under the Freedom of Information Act (FOIA) that would shed light on the issue.  The National Partnership for New Americans (NPNA) submitted FOIA request in August 2018 to disclose, among other things, public records related to DHS "budget allocations for, policies and practices relating to the adjudication of and delays in processing N-400 naturalization applications."  When the government failed to respond to the FOIA request comments within prescribed timelines, the Coalition for Humane Immigrant Rights (CHIRLA) and NPNA filed a lawsuit in federal court, which remains pending.
At the same time there is now an upward trend in the number of federal civil lawsuits filed involving naturalization matters. According to the data collected by Transactional Records Access Clearinghouse (TRAC) at Syracuse University, the number of federal civil naturalization lawsuits went up 39% in the last year, and is 66% higher than 5 years ago. It appears that the recent trend of increased processing times, and the increase in denial rates, is causing more applicants to turn to the federal courts for relief.