SGG responds in a crisis. Joyce Noche, Esq., a Senior Attorney and resident DACA expert who has been working with DACA students since day one and consulted with the Obama administration in DACA's formation,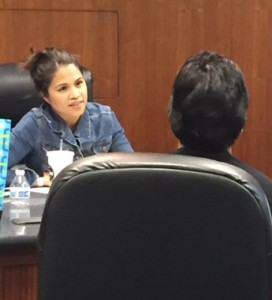 worked one-on-one with individual DACA students at Cerritos College this past Friday.  Joyce and Family & Removal Group Partner Heather L. Poole spoke with DACA studentswhose minds were consumed with what was going to happen if DACA isn't saved in six months and what happens to their personal information after they willingly exposed themselves to DHS for the DACA program. Will ICE be using that information to throw these students into removal proceedings once their DACA expires?
For our detailed analysis of DACA's demise, check out our website article written by Joyce.
Today, we face the largest sweep of undocumented immigrants in U.S. history happening within our borders. We hear stories of collateral damage – ICE is looking for one immigrant who may be here on an expired visa or expired DACA but sweeps up family members in the vicinity during a home raid.
What the demise of DACA will mean is causing widespread fear in classrooms. Students are now worried ICE is going to show up on campus looking for one student and sweep up others who don't have their papers or proof of their identity and legal status all in the peripheral of the raid.  This is a sad, scary but realistic fear. College campuses have always been a symbol of refuge as well as a safe place to voice one's opinions and have been a sanctuary for many undocumented students who through no fault of their own, were brought to the U.S. as children and now face removal to a place they have never known or remember.  What was uplifting to hear is the response from Cerritos's administration as well as many of the other community and state universities who are trying to help these students and keep their campuses a safe place, offering "know your rights" seminars, DACA renewal clinics, counseling, and other school services to the students affected.
Now is the time to curb expectations of a positive renewal of the DACA program in the next six months and realistically strategize about what's to come when a DACA student's status expires. Much of our time this past Friday speaking with students was not only to help those eligible to renew their DACA but also help them safety plan and identify potential immigration options and hopefully find some alternatives for the few who have them.
Some key points to remember about this week's deadline:
Renewals must be received by CIS on or before October 5, 2017 (this Thursday).
Applicants with DACA that expired before 9/5/17 and who have not filed for renewal before 9/5/17 are no longer eligible to renew their status
If your DACA expires between Sept. 5, 2017 and March 5, 2018, you are eligible to renew DACA.
No new DACA applications if you have never had DACA before.
No new advance parole applications will be accepted (if you leave the US without advance parole travel permission, you could get stuck outside of the US)
It may not be safe to renew your DACA if you have left the US without advance parole or if you been arrested, deported, or are in removal proceedings now. Talk to an immigration attorney first!
If you need our help, contact us today. Email: info@sggimmigration.com or call 213.627.8998, or book your case evaluation appointment online with an experienced DACA attorney today.